Products
Our tube products at a glance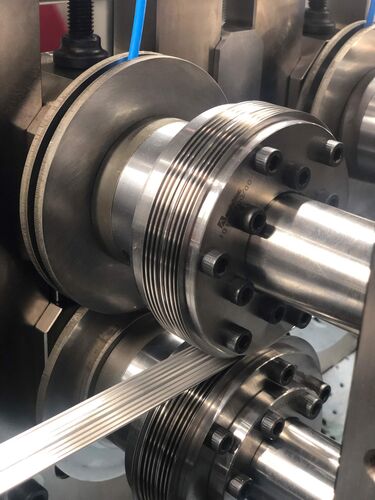 Multiport Tube Folding Machine RFL
Folded multiport tubes made of several strips
Folded multiport tubes are inexorably making their way into heat exchanger development. Compared to extruded profiles, they offer considerable advantages in terms of corrosion resistance and product design possibilities with even better strength data. For example, by using two strips, different material thicknesses can be realized for tube webs and tube outer wall. Whereas previously only standard profiles were available, a wide variety of geometries can now be realized when using the new technology.
Highlights of the RFL tube folding machines
The RFL tube folding machines are considered the world's first process-capable solution for 24/7 production of folded multiport tubes under industrial conditions. Well-known highlights of all Schoeler machines, such as the compact and ergonomic design, the modular construction, the proven tool change principle as well as an intuitive HMI user interface can of course also be found in this machine series. In the production process of 2- or 3-piece multiport tubes, topics such as integrated degreasing, internal and external fluxing, deformation-free high speed cutting and automated packaging are also on the agenda.
Tube Folding Machine RF
Unrivalled high quality standards
The development of the latest generation of RF tube folding machines once again underlines the expertise in thin-walled, roll-formed tube profiles with which Schoeler has been impressing its customers for decades. As a newly designed series machine, the current RF generation is particularly convincing due to its high production speed, a once again improved precision level and maximum efficiency in terms of flexibility and changeability. Due to the clever modular design, the RF has excellent customization potential. The new appearance also visualizes the high Schoeler standards of precision, value and ergonomics in the tube folding machines.
Efficient profile roll forming design
No two tube profiles are ever alike. A reliable process for profile roll design is therefore the key to success in being able to execute every order quickly and efficiently. It goes without saying that the Schoeler engineers have these key skills at their disposal. A three-stage process is used to guaranteed a reliable design result through a wide range of simulation methods. Critical forming steps can already be localized during the design phase, enabling timely corrective intervention. Detailed information about material stress curves in the profile also provides information at an early stage about the results to be expected later in the production process. This saves time and reduces development costs to a minimum.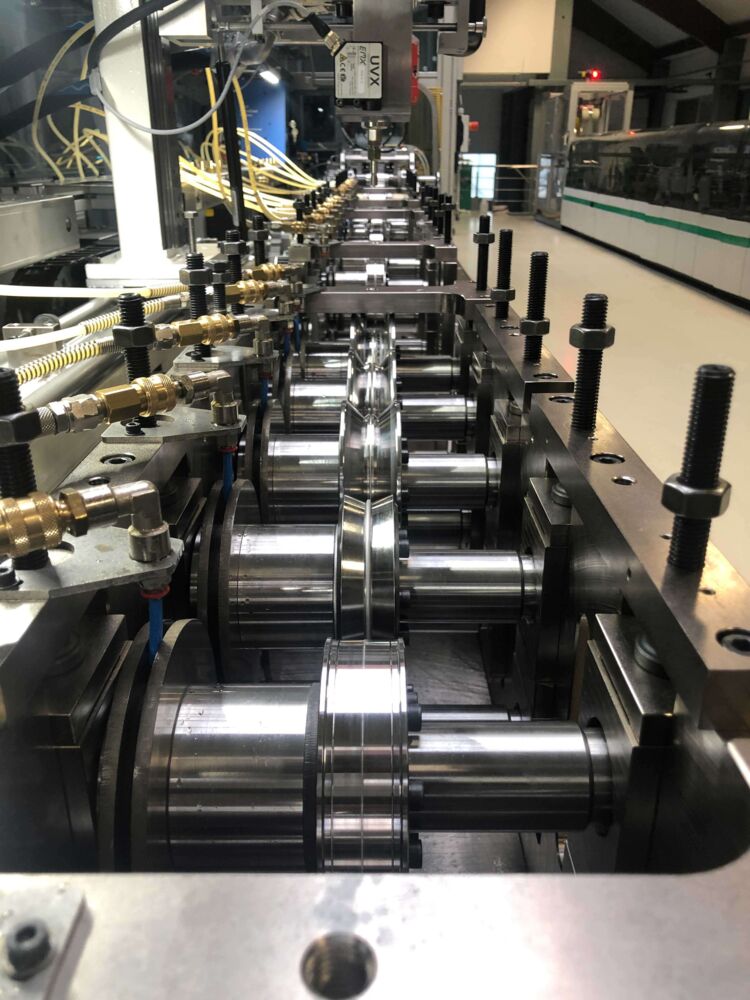 Tube Welding Machine RHF
Well equipped for new market requirements
Based on decades of experience, our engineers have developed the concept of the RHF tube welding machines. A concept that combines highest productivity and maximum flexibility. Production speeds of up to 200 m/min finished product and 500 tubes per minute can be realized just as easily as tube dimensions of up to 105mm height and 10 mm width. Our machines can be upgraded or converted at any time thanks to specially developed additional applications and the standardized design. Due to the modular component design, the degree of automation or the production speed can grow with your increasing demands. In this way, a compact entry-level model can be transformed into a system for 24/7 operation including fully automatic product packaging. Should you ever have an extravagant idea, our team is at your side with advice and support and will develop a customized complete solution consisting of electronics, mechanics and service - especially for you.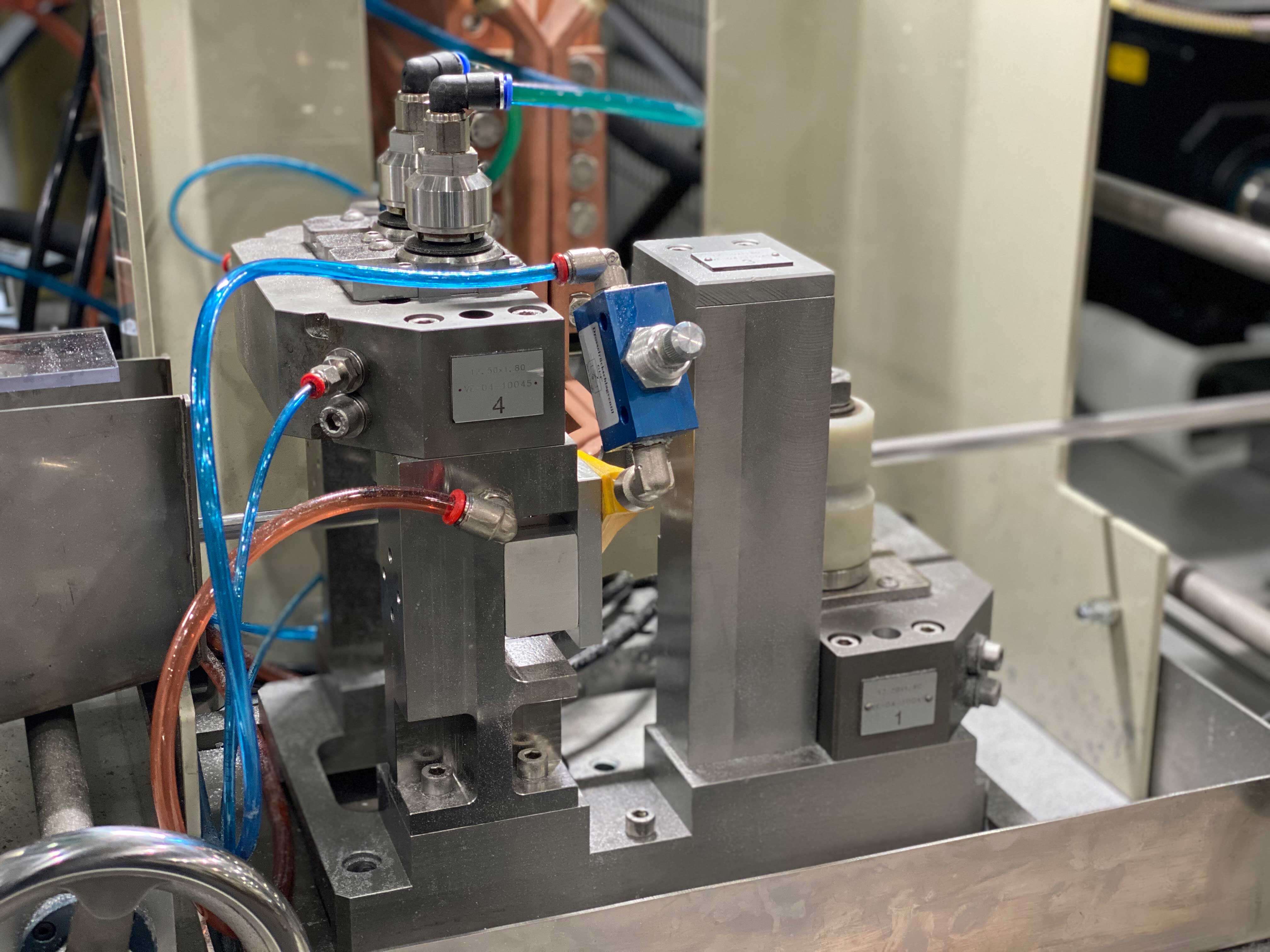 Cut Off Unit – RS Series
Highest cut rate - minimal cut length tolerances
For decades, Schoeler cut off units have been the global standard for professional high-end tube production. They enable profile cutting with minimal cut length tolerances while achieving the highest cut rate.
Even in the realm of cutting, our R&D team is always an arm's length ahead when it comes to customer and market requirements. The latest generation of Schoeler cut off units with the flying cut mechanism guarantees profile cutting at a defined length, regardless of the production speed, with an unprecedented level of precision. All new tube production machines are equipped with this cutting mechanism as standard and it can also be retrofitted on both existing Schoeler machines and third-party machines.
As a result, it replaces the proven RS 100, RS 200, and RS 300 series, with their spare parts and service support continuing of course. The implemented electronic solution ensures high and precise cutting performance by directly controlling the servo controllers and motors using specially developed computer hardware and control algorithms. The cut off unit can be used for different end products:
RS 800 / RS 830 - vertically standing longitudinal seam-welded radiator, charge air cooler, and oil cooler tubes are cut at production speeds of up to 200 m/min.
With RS 801 / 823, horizontally positioned B-type folded or multi-chamber tube are cut at a rate of up to 500 cuts per minute with 200 m/min.
The RS 841 uses its patented cutting method to separate two-part multi-chamber tubes, whose inner fin is made of ultra-thin aluminum strip with a minimum thickness of 0.07 mm and which is encased by a folded B-type or Snap Over tube.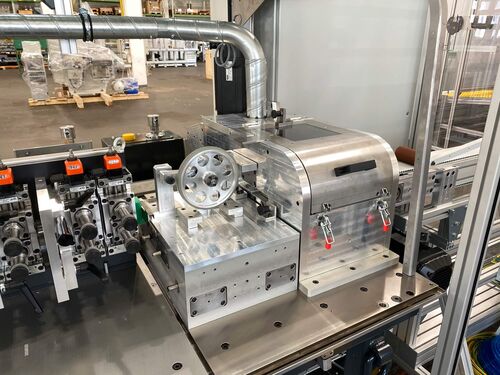 Burst pressure tester BPT
Precise and reliable
The semi-automatic burst pressure tester BPT 200 is the optimal solution for visual weld seam leak testing as well as burst pressure determination of seam-welded tubes. Prove the quality of your welded tubes with the help of our burst pressure test equipment.